01.03.20
Getting Tattooed by Victor Portugal-Part 1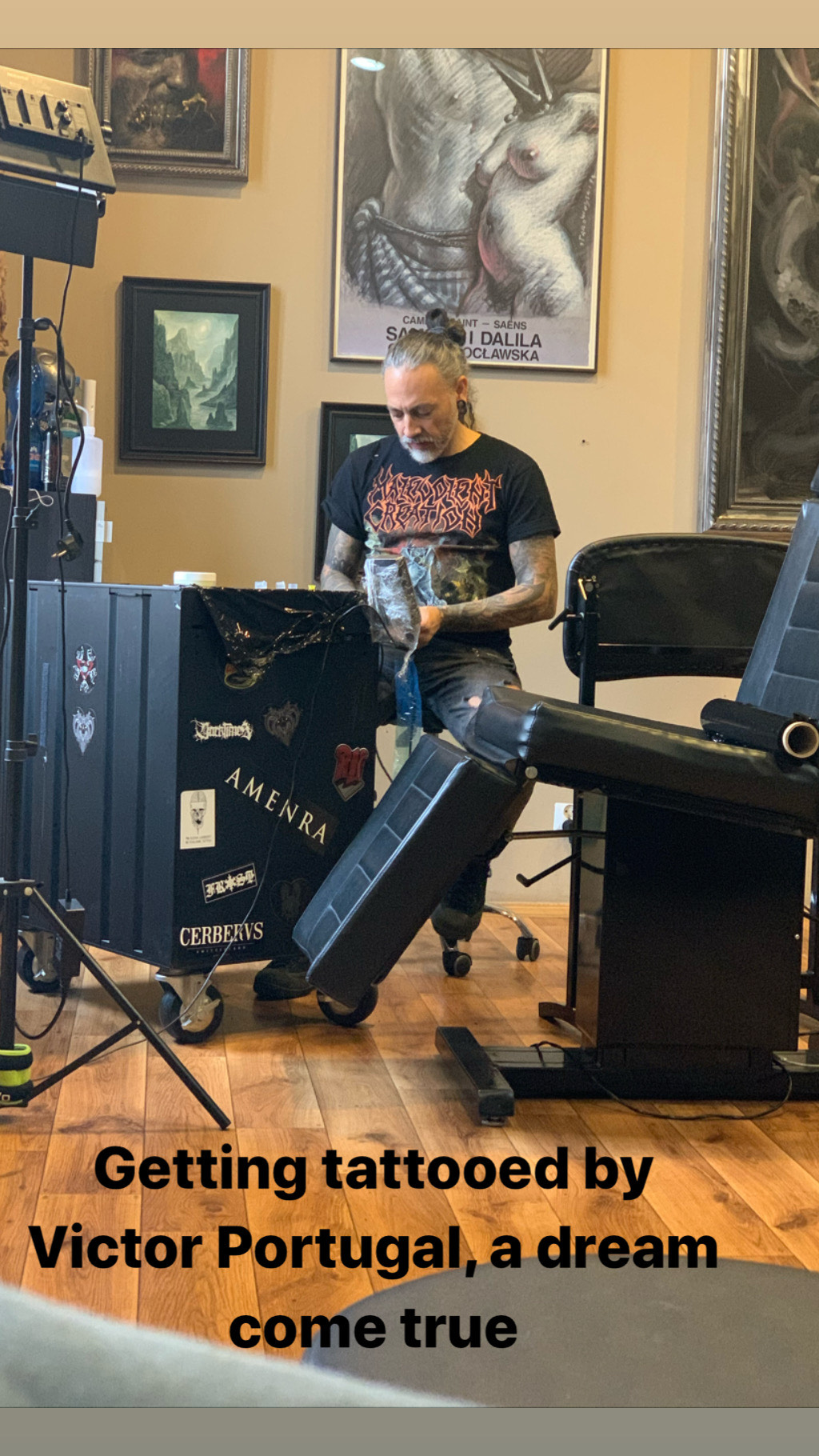 Hello,
Thanks for reading our blog, it's a good way to get to know what we have been up to behind the scenes, in our tattoo studio in Leeds City Centre.
In this blog I would like to talk about my experience getting tattooed at Dark Times at Kraków, Poland, by Victor Portugal.
I've always wanted to get my neck Tattooed for a long time, however it's such a visible place, and such a commitment. I knew that once I got it done, I would have to succeed at art at any cost. So I thought I would wait for the right time, and make sure i would pick the right artist for the job.
I have now been tattooing for 13 years, so I thought I would present myself with a tattoo by an artist who I really admire. So I had in mind two tattoo artists who I love their work, who were Victor Portugal and Carlos Torres.
There are a lot of awesome black and grey artists around the world, and I really respect a lot of artists. However there are always some artists who catch your eyes more than others.
I love Carlos Torres work because of how an amazing artist he's outside of tattooing. He does oil paintings in colour, his painting are amazing, but then he only tattoos in black and grey. I love his style, and when I look at his tattoos I can tell that's him straight way, he puts his own stamp in every tattoo he does. So he was for sure one of my options.
My other option was Victor Portugal. Victor Portugal is a tattoo artist from Uruguay, who currently works in Poland Kraków.
I first saw Victor Portugal's work in Barcelona tattoo convention 2011. It was a tattoo convention I was only visiting to watch, not work. That gave me the opportunity to see some awesome artists working, get to know them, and try to learn as much as I could. In that tattoo convention I saw Victor Portugal working for the first time.
As soon as I saw his work, I knew he wasn't like everybody else. His work looked realistic to me, but not only realistic, he had another spin that only can be achieved if you draw outside of tattooing.
So I had to choose in between those two awesome artists, what a hard choice to make. If I could get those two guys to do a collaboration at the same time, that would be awesome. However Carlos Torres works from California, Victor Portugal from Poland. Only in a Tattoo Convention like London Tattoo Convention to get those 2 monsters crafting at the same time. I like dreaming sometimes.
So I had to be realistic, and I had to choose one.
So I tried to contact Carlos Torres first, really really booked up, which I completely understand, as the guy is good. However he was booked up to a point where it seems nearly impossible to get an appointment with him. I tried to speak to his secretary, and she said, look it's really hard. So as much as I respect his work, it seemed really difficult, plus he was in California, a lot more far away from Poland, where Victor Portugal works from.
So i started to try to get in touch with Victor.
To be continued on "Part 2"