04.20.20
Getting Tattooed by Victor Portugal, part-2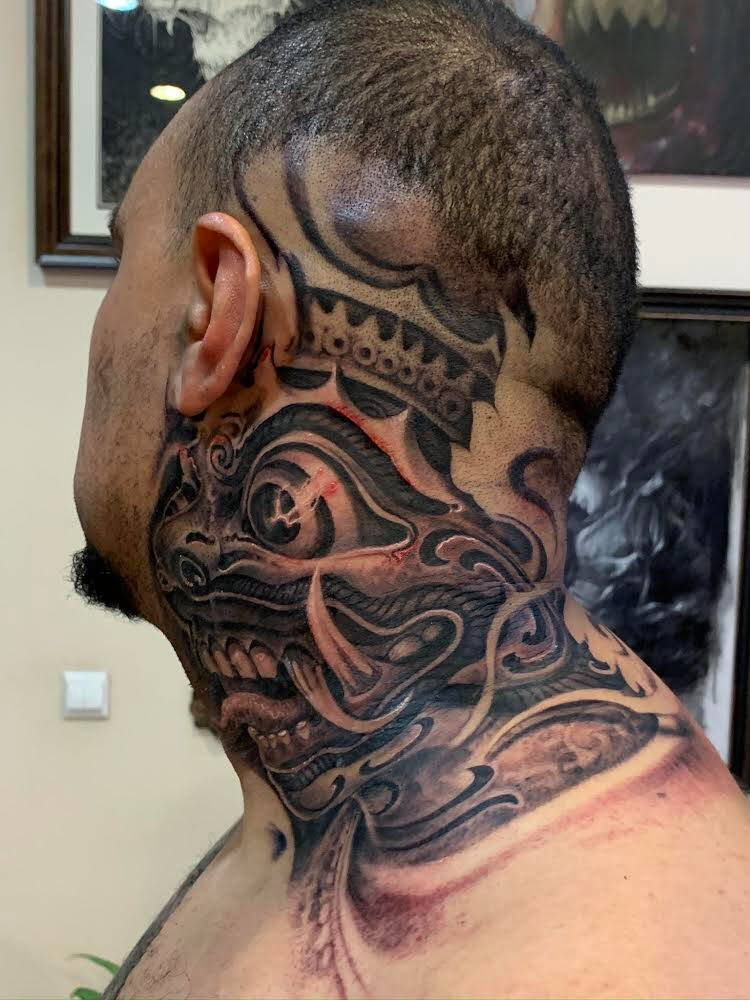 Getting in touch with Victor Portugal for my tattoo, it wasn't easy, however I feel like it was more accessible than a lot of other big names I have previously tried to approach.
I have tried to approach a dozen of big names in the tattoo world, however it seems almost impossible to get tattooed by then.
I feel like with Victor, I had to persist a little, but not out of this world, like past experiences I had. The only little issue I had was to change the date of the appointment once, however that was before I booked my flight, so it was all good.
After making the booking, I thought I need to book the flight. I have never been tattooed abroad before, so I was quiet worried about booking my flight and they could double book my appointment, or something happen. I really didn't want my appointment to be messed up, so I was sure to double check by email, to be sure my dates were booked.
I've always dreamed to get my neck tattooed, since I was a teenager. However I always thought, if not by the best no point doing it.
Victor Portugal was a good choice as, his black and grey work is amazing , he is based in Poland, not too far away from me, travelling from England. He has got his own style, very unique.
So the day arrived, I was in Poland, Kraków. I really enjoyed the city, it's got a nice feel to it. My hotel was really nice too. I was sure to be in a nice hotel in order to have a good rest. As resting well before getting tattooed is really important.
The day of my tattoo, I was nervous, I haven't been tattooed for over 5 years. My Hotel was not too far from the studio, so when I finally arrived, his studio has a boozer for the entrance, as his studio is based on second floor. I pressed the buzzer, the door opened and you have to go through a glass window to get up the stairs, as I got upstairs, the receptionist greeted me very politely letting me know Victor was stuck in traffic and he was gonna be a bit late.
I didn't mind that so all, as I'm sometimes late for my tattoo appointments, I try my best not too, but sometimes life gets in the way.
His Studio has a very dark feel to it, which is expected as his studio is called "dark times" it's kind of what you see is what you get. I sat in his sofa, and his station was right facing me. I was greeted with heavy metal playing straight in the morning, it was quiet an experience actually.
His Studio is filled with art work everywhere, which it was very inspiring for me. He has original oil paintings by Mr Dist, who does the same sort of work Victor does. His walls are filled with Trophy's he has won over the years, the one stood out to me the most was the best of the show in London Tattoo Convention, I'm not sure which year it was.
Victor arrived finally 30 min late, very nice guy straight way, very genuine and humble, he has got a very chilled energy about him. A very calm vibration. Maybe that's the secret why he does awesome work.
His station was no where set up or ready for the tattoo, he did everything in front of me, setting up his station. When he was setting up his station, I was looking at him and I thought… I met the master! I crossed rivers and met the master.
We went through a few ideas. I planned a few ideas on my iPad, however the ideas I had planned, didn't really meet with what Victor was thinking.
I was planning more of a face with his style. However I imagined more like a mask.
It was a tough moment for me, because I had imagined and planned something, then when I got there, everything changed.
I think is really important to get tattooed if you are a tattoo artist, because I was now in the position of a customer, and I know what it feels if what I was planning or wished to get tattooed was out of the picture.
I was even thinking about getting a different part of my body done. But then I thought.. he's Victor Portugal, he's one of the best black and grey tattoo artist in the world.
So he suggested to tattoo a mask, instead of a face.
To be continued…